Does your SAAB key Look Like This!
Is it no longer working as it should?
We can
help
We are able to offer full repair service In our purpose built workshop
restoring them to the condition below.

This service costs £57.50

including VAT and Return postage

service includes
replacement of switches
new case
replacement battery
testing service
the repair of transponder errors and programming to your car is not included
The key must already be programmed to your car
If your key is already programmed to your car it will start the engine but may not work the central locking if the buttons are damaged
to use this service contact us either by e-mail or the number below and send us your key recorded delivery to the address below, turnaround is typically two working days. all keys are returned recorded delivery and will require a signature.
we are also able to cut replacement blades

from a photo
the key must be on a flat surface
and a photo taken from directly above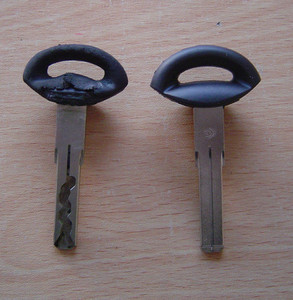 We are an established automotive business that provides

a professional and friendly service
Our services
are designed to meet the needs of our customers.
Whatever your particular manufacturer, model, or year is
why not give us a call
our
Professional Auto Locksmith
Is always happy to help and will be able to advise you on the best course of action

01942 608964

service@a1fuels.co.uk
A1 Fuels Services
30 St Helens Road
Leigh
Lancs
WN7

4HW